Professional Development for Economics and Personal Finance Course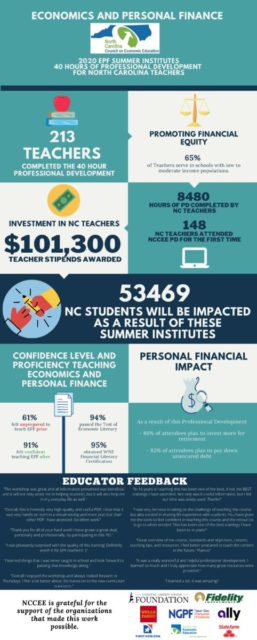 During summer 2020, NCCEE offered virtual professional development for the new Economics and Personal Finance (EPF) course. This 40-hour professional development equipped educators with the tools, skills, and knowledge they need to effectively teach the new Economics and Personal Finance course. The training included presentations from NCCEE, NextGen Personal Finance, The Federal Reserve Bank of Richmond, and Marginal Revolution University!
The professional development was facilitated virtually due to COVID-19, and upon successful completion, attending teachers received a $500.00 stipend. In addition, teachers that successfully completed the inaugural summer training now have the opportunity to apply for NCCEE's EPF Master Teacher program. To find more information regarding the EPF Master Teacher Program click here.
To view the pacing guide complete with over 300 lesson plans created by Summer Institute 2020 attendees, visit the resources here.
EPF Summer 2021 Professional Development: Dates to be announced.
Disclaimer: According to House Bill 924, the new Economics and Personal Finance (EPF) course must be correlated to the Council for Economic Education's (CEE) standards. In compliance with the legislation, NCCEE's professional development will correspond to these standards. Once the course standards are finalized and approved by the Department of Public instruction and the North Carolina State Board of Education, all materials, lessons, and activities will be mapped to the corresponding state standards. Attendees will receive updated training documents.